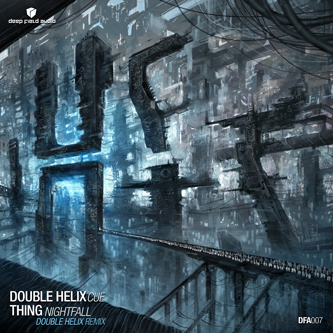 Our newest release with the magical catalogue number 007
is definitely a special treat for anyone in favour of powerful
basses and energetic drums: Double Helix returns to his
home base with another two steps up the ladder of
forward-thinking drum n bass.
The virtual A side features the Austrian producer's newest original
output, the massive roller Cue. 'Don't you worry' is
the tune's vocal backbone, and for every bass music
afficionado there's really nothing to fear in this labyrinth
of synth, breaks and groove that leaves no stone unturned
and no floor unspoiled. On the flip we find Double Helix'
remix of the mighty Thing's Nightfall that turns the bass-laden
laidback original into a psychedelic pressure chamber.
https://soundcloud.com/deepfieldaudio/sets/double-helix-cue-thing-double
And while you're at it, don't forget to check out our newest podcast!
https://soundcloud.com/deepfieldaudio/deep-field-audio-podcast-vol-4-mixed-by-double-helix
DFA Headquater
Follow us on Facebook:
https://www.facebook.com/DeepFieldAudio
https://www.facebook.com/doublehelixdnb
https://www.facebook.com/ThingMusic